The Knitting/Crocheting Ministry of St. Matthew's Church, Gahanna, Ohio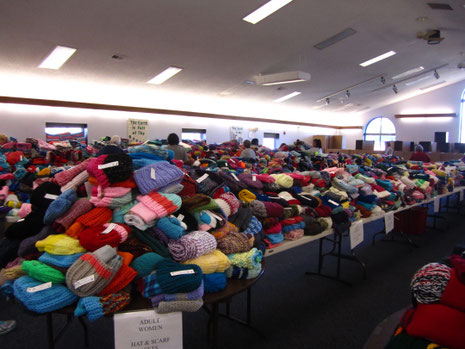 The history of The Knitting/Crocheting Ministry of St. Matthew's Church, Gahanna, Ohio:
December 31, 1990.  My sister, my niece and I learned that our mother had Viral Cardiomyopathy, caused by a virus from the flu she had a few months earlier.  We were told there was no cure and the prognosis was five years. 
For part of her recovery, my sister and I got her knitting lessons.  She began making scarves and hats, giving them to the Worthington United Methodist Church. Soon people were giving her yarn to make more.  She made items for four years until she died on January 20, 1995.
Driving home from work one day I saw a homeless person at Morse Road and I-71, wearing one of my mother's knitted hats. After her death, and seeing the homeless man, I knew her work should continue.
From 1995 until 2002 I crocheted scarves and gave them to St. Matthew's Church for the St. Vincent de Paul Society. After retiring in 2003, I helped give the scarves and hats to needy families at Christmas.
Many people have volunteered over the years by donating yarn, money to buy yarn, and knitting/crocheting items in their homes. Presently there are more than 140+ of us knitting and crocheting. Since 1995, we have been blessed to make over 144,625 items.  We now make mens'/womens'/childrens'/teens'/toddlers hats, scarves, baby blankets, prayer shawls, and lap robes. We also make little hats for premies.
In 2019, we distributed 20,321 items to 57 organizations in the Central Ohio area. Currently there are 140+ members from OH, CO, and MI working year-round to add items to our mission outreach.
The more people who choose to get involved, the more people we can help.  If you are interested in donating yarn, it can be dropped off at St. Matthew's Church Office in Gahanna.  With all donations, please include your name, address and phone number so that we can send a personal note.  Checks can be made out to Mrs. Glenda Neely, and note "The Knitting/Crocheting Ministry" on the memo line.  100% of all donations goes to buy yarn.
Please click on the "Contact" link above if you would like to knit and crochet for this cause, wish to make a yarn or monetary donation, or would like more information regarding this ministry. Youth who are working on their charitable hours for school projects can contact us as well.
We meet most first Monday evenings at our home from 6:30 pm until 9:00 pm and other locations around the Gahanna, Ohio area. Please contact us if you would like more information.
The prayer we say at each meeting, written by one of our members:
"Heavenly Father, please bless us and the work of our hands as we crochet and knit.  Help us to always be mindful of those among us who are in need.  May the Holy Spirit guide us and help us to remain meek and humble as we do your earthly work.  Bless and comfort those who receive the hats and scarves we create.
May the warmth they feel remind them of your loving embrace so that they know that they are never alone on their journey … for you hold each and every one of your children here on earth in the palm of your hands.
We ask this in the name of Jesus.
Amen."
Please click on the "Contact" link above to get in touch with us for additional information, to join us, or to make yarn or monetary donations.
Mrs. Glenda Neely and the Knitting/Crocheting Ministry Members